The routine use of follicle flushing during oocyte pick-up varies a lot between clinics. If flushing is used, there are many alternative solutions. At Vitrolife we are constantly working to improve our products and services and one way of doing this is to get a better understanding of user behaviour during certain procedures. We were interested in the use of heparin during flushing and sent a survey to the IVF community. Here is the result.

Heparin prevents formation of blood clots
Heparin is a naturally occurring anticoagulant. When used as a medication it acts to prevent formation of blood clots by making the blood thinner. The role of heparin when adding it to the flushing media in connection to oocyte pick-up is to prevent clotting in the tubes containing follicular fluid and cumulus-oocyte complexes. The use of heparin is particularly useful in clinics where the operation unit and the laboratory are far apart.
How is heparin used during oocyte pick-up?
The survey consisted of one question only and was sent out to IVF-professionals worldwide. It was also possible to participate via a link on our Facebook page and LinkedIn page. In total 315 persons responded to our survey. According to the respondents the most common is to use a solution without heparin for flushing in connection to oocyte pick-up.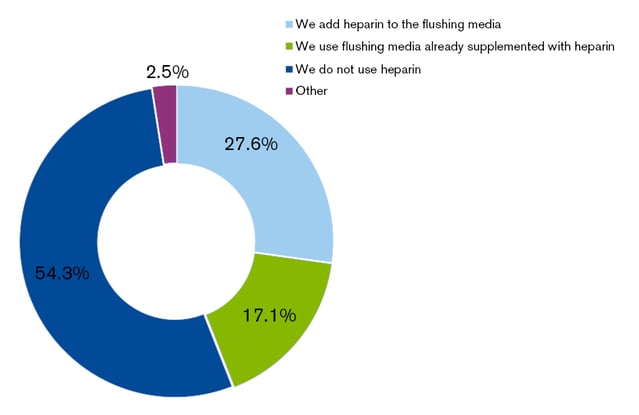 Heparin or no heparin – we offer both solutions
Regardless if you are using heparin or not when flushing the follicles during oocyte retrieval, we can provide the solution for you. ASP is designed for oocyte retrieval procedures and contains heparin. The handling medium G-MOPS does not contain heparin and can also be used for oocyte retrieval procedures.
Three ways to optimise the oocyte pick-up procedure
Dr. Göran Westlander has written a blog post about his views on how to optimise the oocyte pick-up procedure. Click on the button below to watch a movie, where he talks about this subject in more detail.
Topics: Oocyte retrieval