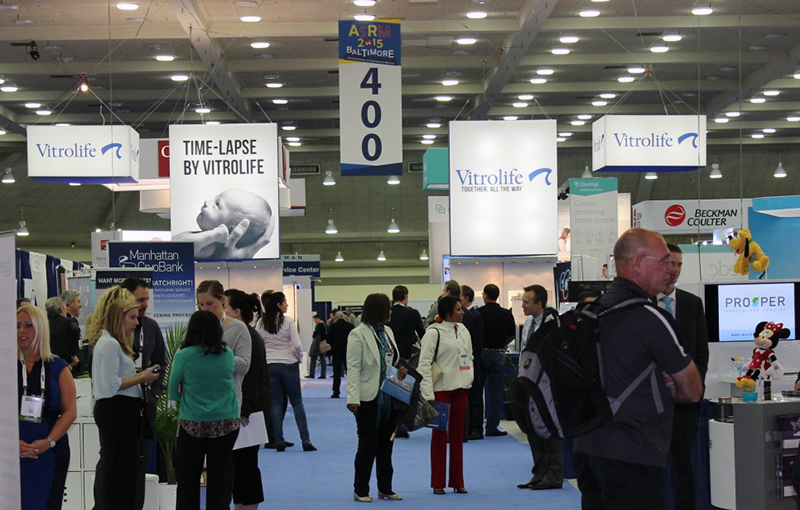 ASRM – the American Society for Reproductive Medicine took place in Baltimore, USA at the end of October. Together, the Vitrolife team covered most of the scientific sessions. The programme as always covered a large variety of topics. The continued interest in the use of time-lapse in the IVF clinic was particularly evident. In this blog post we share some of the highlights in our view.
Time-lapse improves both implantation and live births
The clinical benefit of utilizing time-lapse was demonstrated in several presentations. By comparing the outcome of IVF patients with their embryos cultured in EmbryoScope (n=1318) to traditional culture and selection methods (n=1199), Dr. Zaninovic and co-workers from Weill Cornell Medical College, NY, reported significant increases for ongoing pregnancy, implantation and live birth with time-lapse (O-249). This result was ascribed to both improved culture and improved assessment. Similarly, the group lead by Dr. Desai from Cleveland Clinic, OH, reported higher clinical pregnancy and implantation rates with selection based on time-lapse information compared to traditional monitoring (O-251). In this study 133 and 135 patients were randomised to time-lapse and traditional assessment, respectively. While both groups were cultured undisturbed in the EmbryoScope to rule out culture-associated effects, the traditional assessment group was only observed at specific daily time-points to mimic traditional monitoring which provides a limited information basis.
Neonatal outcome equal between time-lapse and traditional culture
An increasing number of clinics have been using time-lapse for a sufficient amount of time that clinical data is now available about the health of the babies being conceived after culture in the EmbryoScope. Two studies this year at ASRM looked into obstetric and/or neonatal measures comparing time-lapse cycles to traditional culture cycles and both studies concluded there were no differences between these two types of culture, validating long term safety of embryo culture in the EmbryoScope (P-314, P-358).
Time-lapse has a widespread use and applicability
The broad range of topics for which time-lapse is being used confirms it's widespread use and applicability. Reports of time-lapse applications included use as quality control tool (P-98), assessment of laser assisted hatching and effect (P-232, P-240), effect of cryopreservation techniques on embryo development (P-241, P256) and as synergistic application in PGS cycles (P-520, P-591, P-601). Overall, the interest in implementing time-lapse for clinical use continues to draw interest. This interest was evident by the great turnout of attendants for the debate session on time-lapse and routine use in the IVF lab. In this interactive session there was a broad consensus of the improvement potential of applying time-lapse in clinical IVF.
Various aspects of cryopreservation was presented
Cryopreservation was the topic of a number of communications. A session on social egg freezing included talks on results of oocyte vitrification but also financial aspects and investigations of the optimal target population. Another session covered the trend of "freeze-all" treatment cycles. This session included information of animal research to identify the impact of ovarian stimulation on endometrial receptivity as well as work on determining the implantation window in humans. Also safety aspects were included in the discussion.
A session on cryopreservation covered various topics. Results in relation to endometrial preparation were presented by Bardos et al. (O-121) and Setton et al. (O-126). Perreira et al. (O-124) presented a comparison including 2,191 embryo transfers on outcome after fresh and cryopreserved blastocyst transfer and did not find significant differences between the 2 goups. They speculate that a conservative ovarian hyperstimulation may not be negative.
Two studies presented aspects of cryopreservation in relation to PGS. Noyes et al. (O-123) presented results after PGS with blastocyst vitrification with or without oocyte vitrification. Outcome parameters were not different once euploid blastocysts were available. Oocyte vitrification however resulted in lower fertilization and blastocyst formation rates. Katz-Jaffe et al. (O-125) presented a series of 1,000 embryo transfers after PGS at the blastocyst stage followed by vitrification and showed that outcome after transfer of a single euploid blastocyst was independent of patient age.
A very interesting study was presented by Maslow et al. (O-122) who analyzed gene expression in blood from women undergoing embryo transfer with fresh or cryopreserved embryos. Interestingly, at the day of embryo transfer gene expression differed depending on the type of embryo transferred. This difference largely disappeared after implantation. Nevertheless, some differences remain and this may be involved in differences in perinatal outcome observed. Posters on cryopreservation mainly included aspects related to the combination of embryo biopsy, PGS and vitrification. P-254 confirmed previous findings that blastocyst vitrification using a closed device yields excellent results.
Interesting findings from analysis of large databases
A session with oral communications related to outcome included analysis of large databases. Luke et al. presented findings from data collected in Massachusetts. They showed that subfertility (O-37) and multiple pregnancies (O-42) are at significantly higher risk for perinatal complications. An analysis of the SART registry showed that many treatment cycles are not compliant with ASRM recommendations on the numbers of embryos transferred on day-3 (O-38) as well as on day-5 (O-41). Another analysis of the same database showed that elective SET resulted in fewer children with low birth weight.
Summing up
Summing up our impressions we note that the use of time-lapse in the IVF clinic has clearly moved from being merely a research tool to becoming a new standard of care. We also note that the topic of cryopreservation still attracts many researchers.
We thank everyone who interacted with Vitrolife in one way or another and hope to see you again at ASRM or another meeting around the world.
Topics: Time-lapse, Vitrification, IVF community insights, Embryo culture & transfer
Comments