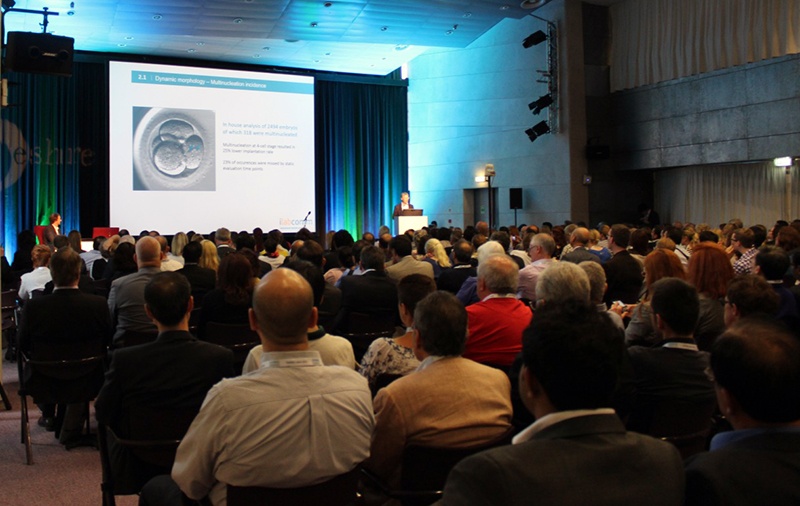 Once again we have visited ESHRE, the annual meeting for European Society for Human Reproduction and Embryology, the biggest event in the field of IVF. Together, the Vitrolife team covered most of the sessions and listened to many interesting and sometimes provoking presentations. In this blog post we will share some of our thoughts from this year's meeting in Lisbon, Portugal.
Vitrification - closing the open issue
Several presentations confirm recent observations that closed carrier systems perform equally well compared to open systems. Session 43 was dedicated completely to aspects of blastocyst cryopreservation. Sciorio et al. (O-151) started the session by presenting excellent results on blastocyst vitrification using Rapid-i. In a study involving almost 1500 embryos, Panagiotidis et al. (O-152) showed that 3 h incubation allowing for reexpansion gave the best implantation rates for more advanced blastocysts. The contribution of hyaluronan as a component in vitrification media for blastocyst vitrification was presented by Schiewe et al. (O-153). In another session, Iwahata (O-129) presented their findings on neonatal outcome after blastocyst vitrification using Rapid-i or cryotop. They previously published similar results in terms of survival, pregnancy and implantation and now showed that outcome of pregnancies, birth weight and malformation rates are not different. Papatheodorou et al. (O-261) compared results of fresh and vitrified sibling oocytes using a closed carrier device. They showed survival rates and clinical outcome similar to fresh oocytes and thus similar to reports using open carrier devices.
Embryo culture media - single or sequential?
Several studies discussed comparisons of sequential and single step media, from various manufacturers, with and without use of time-lapse culture. Overall, the results were similar. One of the ESHRE sessions was a debate on the use of sequential and single step media. The opponents had a different professional experience and also developed their arguments from different perspectives. At the end of the debate , both speakers would, for different reasons, prefer single step media. They agreed, if it would be possible to provide nutrients according to embryo requirements in an improved way, they would opt for such a system. During the Vitrolife symposium and in a poster, a comparison of a large number of embryos comparing G-1/G-2 with G-TL in a time-lapse system was presented. Also, no significant differences were observed.
In the session on human development and evolution, the possible effect of culture media on outcome after ART was part of the presentation by John Dumoulin. The Dutch Famine illustrated the effects on health later in life from differences in diet during different phases of the pregnancy. This may indicate that nutrients provided to embryos during the in vitro culture may have an effect later in life. Studies from Maastricht on effects of culture media seem to indicate this. So far, there does not seem to be a consensus on this.
Time-lapse is here to stay
Time-lapse is continuously gaining ground in IVF and this year more than 60 abstracts were based on data obtained by using time-lapse imaging in a clinical setting. One of the trends was the importance of detecting multinucleation which is not always detectable by traditional assessment methods. Bayram (O-005) showed that while blastocyst formation rate is similar between embryos with and without multinucleated blastomeres, embryos exhibiting persistent multinucleation have a lower chance of being euploid than embryos with non-persistent or no multinucleation. Sayed (P-196) took the detection of multinucleation a step further by differentiating types of what they called "nucleation errors" at the 2-cell stage and showed that not only does such multinucleation associate to significantly lower implantation rate but differentiating types of errors refines embryo quality classification.
Embryo cleavage patterns and morphokinetics can be analysed by time-lapse imaging of developing embryos and several studies showed the relevance of such analysis for assessing embryo potential. Wilkinson (P-227) demonstrated that narrower morphokinetic ranges were associated with increased embryo potential and the presentation by Lagalla (O-006) indicated that partial compaction may not be a parameter for deselection but rather a sign of extruding aneuploid cells from a resulting euploid blastocyst. The clinical benefit of utilising time-lapse information for embryo selection was well documented at this years ESHRE. By transferring embryos passing clinic morphokinetic criteria, Eikeland (P-238) were able to significantly increase the live birth rate resulting from top quality embryos from 17,6% to 38,1% and a prospective randomised controlled trial presented by Dr. Kovacs as one of the very last oral abstracts (O-271) demonstrated a relative increase in pregnancy of 20,5% and in ongoing pregnancy of 16% when utilizing the information gained with time-lapse compared to traditional static observations. This data was based on day 5 elective single embryo transfer (eSET) in good prognosis patients for which conditions were kept equal between study groups and the study supports the current trend in IVF of moving towards eSET to reduce complications associated with multi-embryo transfers.
Vitrolife symposium - Time-lapse - a new standard of care
The interest in time-lapse was evident from the very large turnout at our own scientific symposium entitled "Time-lapse – a new standard of care". Here, Prof. David Gardner set the stage for an exciting hour of looking at time-lapse from three different angles: selection, applicability and quality management. Markus Montag talked about his experience in IVF: from the dream of being able to continuously observe developing embryos to the newest development for time-lapse assessment, the KIDScore D3 Basic decision support tool. This tool classifies embryos according to their implantation potential and it's applicability was further demonstrated in a poster (P-205, Montag & Petersen). This showed that in only 22,5% of cases evaluation by traditional methods was able to select the embryo with statistical highest chance of implantation.
The symposium continued by Stephen Troup showing his experience on how time-lapse was introduced and adapted in a national-health funded clinical setting. Continuous monitoring of the transition process showed a steady increase in pregnancy and implantation rates and confirmed the trust in Vitrolife´s time-lapse and products. Time-lapse was consequently introduced in all affiliated clinics and altogether more than 3000 cycles are performed in a 100% time-lapse setting with almost 90% of elective single embryo transfer cycles. Stephen resented a calculation that showed the massive financial savings for the health care providers and also presented data on time-savings in the laboratory due to the combining time-lapse with a single step culture medium (G-TL).
Last but not least Marius Meintjes highlighted the importance of the proper introduction of time-lapse in the laboratory and the need for rigorous quality control. He nicely showed that once established, time-lapse in itself offers perfect tools for quality management within a clinical setting and can help to identify deviations from standard at an earlier stage than traditional evaluations that look on success rates 2 weeks later. He summarised the advantage of time-lapse under embryological and clinical aspects and his presentation again demonstrated that time-lapse is here to stay and will become indispensable in clinical IVF.
The symposium can be watched on our website.
Preimplantation genetic screening - combining technologies to develop new concepts
Combination of technologies, namely PGS and time-lapse, can give new insight (O-006, Lagalla et al.). Biopsied blastomeres that were excluded from compaction and morula formation and which usually degenerate mainly showed complex chromosomal abnormalities compared to trophectoderm (TE) cells. The results underline the importance to identify the history of TE cells removed for PGS for an accurate diagnosis. Further it allows speculating about the existence of a self-correction mechanism.
These findings may also be important in the light of results presented on blastocoel fluid, as the DNA of excluded and degenerated blastomeres may persist in the blastocyst/zona complex. Pomante et al. reported that segmental chromosomal abnormalities in DNA isolated from the blastocoel fluid does reflect the biopsy results from TE cells (O-118). Another talk reported miRNA profiles from blastocoel fluid (O-211, Cimadomo et al.), showing that blastocoel fluid may be of interest for further studies.
Morphological grading of inner call mass (ICM) and TE according to Gardner and it´s relation to euploidy after TE biopsy and CGH was the topic of Anderson (O-106). Although both, ICM and TE grades are directly correlated with the degree of euploidy, TE gives a better differentiation than ICM, which is reflected in a higher implantation rate of a BA versus an AB graded blastocyst.
Finally, comprehensive chromosome screening and in particular Next Generation Sequencing (NGS) was widely discussed at this year´s ESHRE at the oral as well as at the poster level. Bottom line is that this technology is advancing faster than our understanding of the additional information that we gain.

Overall it has been an exciting ESHRE with a very high energy level and we look forward to following the developments of these topics in the time to come.
Topics: Time-lapse, Vitrification, IVF community insights, Embryo culture & transfer