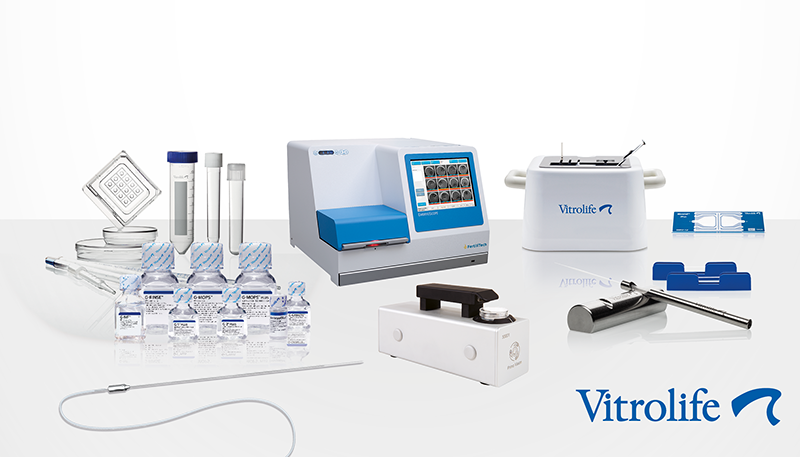 Vitrolife was the first company to have all its IVF products CE marked. So you can be sure our products fulfil the toughest demands on health and safety. Our core values are quality, safety and efficacy – and we invest a great deal of time and effort in meeting regulatory demands.

It's a validation for your clinic to use CE marked products, because then you know that the products have been thoroughly tested. It's also a safety measure for you to use CE marked products, giving patients peace of mind, knowing that your clinic provides the best products for their IVF treatment. Behind every CE marked product there is extensive documentation, covering all steps of the product development phase. Particular emphasis is put on safety and quality aspects. According to the EU Tissues and Cells Directive and the Directive 2006/17/EC it is stated that "Whenever possible, only CE marked medical devices must be used". With respect to IVF Media, the simplest, safest and best way to comply with the quality and safety requirements as presented in this Directive would be to only use CE marked IVF Media.
CE marked products – a validation and a safety measure
Since quality and control is a number one priority at Vitrolife, there's no coincidence that all our products are CE marked due to the importance of patient safety. But what is CE marking and what does it take to obtain it?
What is CE marking?
CE is the abbreviation of the "Conformité Européenne" which means that the product complies with the safety and quality demands and can be distributed freely within the European Union.
Different classes for CE marked medical devices
Medical devices are regulated in the European Medical Device Directive, 93/42/EEC. CE marked medical devices are divided into four classes; Class I, Class IIa, Class IIb and Class III. For medical devices in Class I sterile, IIa, IIb and III, a Notified Body issues the CE mark. The higher the class, the more thorough the external review. Any of these medical devices must carry a CE mark accompanied by the identification number of the responsible Notified Body (Directive 93/42/EEC Article 17). The Notified Body makes recurrent revisions of the company to make sure the safety and quality demands are followed.
A Notified Body needs to be technically competent and capable of carrying out the specified conformity assessment procedures and must also demonstrate independence, impartiality and integrity. A Notified Body is subordinated to the National Competent Authority in respective country. Examples of Notified Bodies are DNV, TUV and Intertek Semko AB.
What is required to obtain CE marking on products?
A company issuing or applying for CE marking must have a quality system designed to meet the requirements in the Medical Devices Directive. Behind every CE marked product there is extensive documentation, covering all steps of the product development phase. Particular emphasis is put on safety and quality aspects. Important parts of the CE marking process are risk analysis, clinical evaluation, validation of the manufacturing process, biocompatibility testing and QC testing. A CE marked product complies with regulations issued by the European Union. This is ultimately a matter of safety.
What does the Medical Device Directive say about products used in IVF?
To obtain the CE mark, IVF Media and instruments must be assessed by a Notified Body. In addition, IVF Media containing human serum albumin (HSA) must have a scientific opinion issued by the European Medicines Agency (EMEA) according to the Directive on stable derivate of human blood or human plasma (Directive 2000/70/EC).
Rules about the donation, procurement and testing of human tissues and cells (including reproductive cells) are given in the EU Tissues and Cells Directive (Directive 2004/23/EC). Implementation of this Directive is then dealt with in the Directive 2006/17/EC, and here it is stated that "Whenever possible, only CE marked medical devices must be used".
The EU Directive 2004/23/EC includes regulation of work on reproductive cells (eggs, sperm). The objective is to set high standards of quality and safety for work with human tissues and cells throughout the Community. The Member States are required to ensure that tissue and cell procurement and testing are carried out by persons with appropriate training and experience, in conditions accredited, designed, authorised or licensed for that purpose by the Competent Authority.
Vitrolife's commitment – true IVF products
Vitrolife's products are uniquely certified for human IVF. There are other products on the market that are also CE marked but intended for other use as well. This means that they might be good products but they are not produced, tested and certified for use within human IVF that our products are.
Topics: IVF community insights
As responsible manager for media development, regulatory affairs and post market, Hans has experience of the products and product labelling from the very initial development phase to the end of the product life cycle. Hans has been with Vitrolife for 20 years and has been involved numerous projects such as development of new products, global registrations, quality improvements and introduction of the environmental management system.