The simple answer is, it can't. In a well-functioning culture system, the oil should only act as a cover, protecting the gametes and embryos from changes in the environment and potential contaminants. But if the oil quality is sub-optimal, it can decrease embryo development. Most oils are produced from petroleum, which means that embryotoxic components may be present due to the production process and origin of the raw materials.
The comparison of four IVF oils
This blog post by Dmitry Nikiforov, analyzes data and facts characterizing OVOIL HEAVY and how it compliments classic OVOIL. In a comparison between four IVF oils, mouse embryo culture with OVOIL HEAVY led to a significantly higher number of blastocysts compared with three other brands (Figure 1).1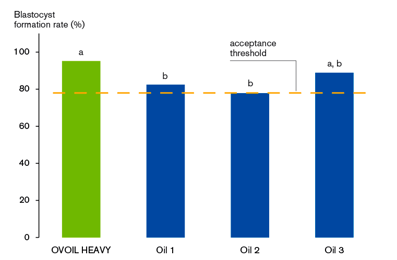 Figure 1: Significant difference is denoted with letters a and b
Furthermore, blastocysts cultured using OVOIL HEAVY overlay had significantly more cells than those cultured with other tested oils (Figure 2).1 This is important because the more cells a blastocyst has, the greater its developmental potential.6 Blastocyst cell number is also a sensitive indicator of a sub-optimal component.7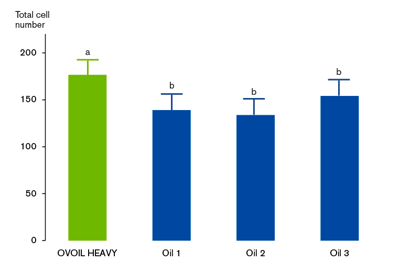 Figure 2. Significant difference is denoted with letters a and b.
More viscous oils reduce evaporation, and therefore can safeguard osmolality and pH more effectively
Culture media can evaporate even under a layer of oil; therefore, the properties of the oil covering are crucial for successful culture in vitro. The longer the culture period, the more important this may become since the osmolality of culture media can change significantly during one-step uninterrupted culture. Incubation in a dry atmosphere influences the rate of water loss and causes a greater change in osmolality of the culture medium than incubation in a humidified atmosphere, even when the culture dish is covered with the lid.3 More viscous oils reduce evaporation, and therefore, can safeguard osmolality and pH more effectively.2,4 Figure 3 shows that when OVOIL HEAVY was compared to 3 other oils in a dry incubator, it was found to minimize the increase in osmolality.1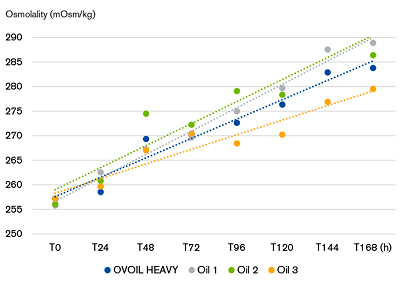 Figure 3. Osmolality changes over time
Although OVOIL HEAVY has a high viscosity, Figure 4 shows that no extra incubation time is required to equilibrate the medium compared to more liquid culture oils.1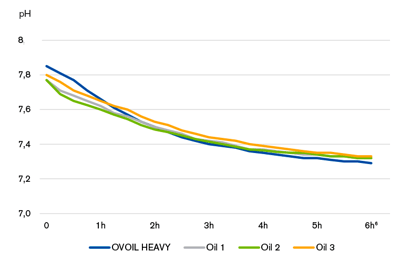 Figure 4. CO2 equilibration profiles
Experimental data from mouse 1-cell embryo culture, showed a 100% expanded blastocysts rate after continuous incubation for 96 hours in the EmbryoScope+ (non-humidified incubator) in ambient oxygen, with only a marginal increase (mean 3.8%) in osmolality over the entire culture period (Figure 6). In this experiment, incubation time was prolonged to provoke an increase in osmolality and ambient oxygen was used to add extra stress to the culture system. Despite these conditions, osmolality was controlled, and all embryos reached expanded blastocyst stage (Figure 5). This shows that OVOIL HEAVY is the perfect addition to Vitrolife's embryo culture system.8
| | |
| --- | --- |
| Figure 5. | Figure 6. |
Clinical data from 5 clinics (including 1,230 oocytes from 121 patients), showed a total blastocyst rate of 60%, of which 76% were good quality blastocysts (Figure 7).8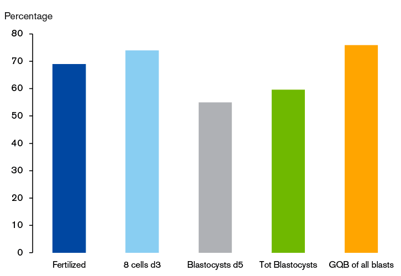 Figure 7.
The result: OVOIL HEAVY safeguards highest possible embryo quality
OVOIL HEAVY is a product providing different handling properties compared with lighter oils. It is a heavier synthetic paraffin oil, made by polymerization of short chain alpha-olefin molecules. Its composition is defined during production, and it contains the lowest possible levels of potentially embryotoxic impurities. Therefore, OVOIL HEAVY ensures decreased amounts of volatile organic compounds (VOCs) and the least possible lot-to-lot variation. OVOIL HEAVY is twice as viscous as classic OVOIL, granting it attractive handling properties.8
In conclusion
OVOIL HEAVY can make routine embryology procedures easier to handle thanks to its higher viscosity.

OVOIL HEAVY can safeguard the culture media properties by decreasing fluctuations in osmolality and pH.

OVOIL HEAVY and OVOIL are rigorously tested using the sensitive micro-droplet MEA test and Human Sperm Oil Assay.

OVOIL HEAVY is a very safe product, ensuring excellent embryo development.

OVOIL HEAVY greatly contributes to a successful treatment outcome for each of your patients.



Download the research summary for Ovoil Heavy:
To learn more about oil for IVF, we recommend that you read this blog post;
References
1. Embryotools S.L data on file 2021
2. Swain JE, Kan MT, Moayeri SE, Schoolcraft WB. Real time assessment of pH stability within an IVF isolette. Fertil. Steril. 2015;103:2,e37.
3. Swain JE, Swain JE, Batcheller AE, Schoolcraft WB, Bossert N. Washing mineral oil used for microdrop overlay does not improve stability of media osmolality. Fertil. Steril. 2016;106: e355.
4. Swain JE. Different mineral oils used for embryo culture microdrop overlay differentially impact media evaporation. Fertil. Steril. 2018;109: e53.
5. Swain JE. Controversies in ART: considerations and risks for uninterrupted embryo culture. Reprod Biomed Online. 2019 Jul;39(1):19-26.
6. Lane M and Gardner DK. Differential regulation of mouse embryo development and viability by amino acids. J Reprod Fertil. 1997 Jan;109(1):153-64.
7. Vang P, Carriere M, Strait E, Allyn V, Cowan P, Lee H, Arab J, Mex-Puc A, Larman MG. Mouse Embryo Assay (MEA): it's not what you do it's the way that you do it! P-158, ASRM 2021.
8.Vitrolife data on file 2020
Topics: Vitrification, IVF community insights, Ovoil
Dmitry Nikiforov is clinical embryologist and researcher in the field of reproductive medicine and works as a Technical Product Manager at Vitrolife. Dmitry has an extensive experience gained while working with IVF from a clinical, academic and industry prospective in 6 European and Asian countries.