Quality is the #1 value at Vitrolife and is totally integrated in the organisation. The company was founded on the idea that high and consistent product quality improves the take-home baby rates for our customers.
Quality at Vitrolife
Quality is not just a word for us; it goes into everything we do and is particularly important for manufacturing and quality control of our products.
The aim of our quality system is to ensure that we deliver high quality products that enable good results with as little fluctuation as possible. Our quality control process covers all the steps from incoming raw materials to final products. One example of our stringent controls is a 100% visual inspection of every needle tip under microscope prior to packing and sterilisation.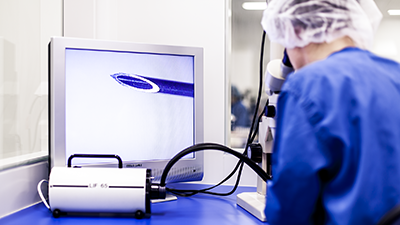 Apart from our extensive mouse embryo assay program media products are also tested for;
bacterial endotoxin

sterility

pH

osmolality
Some products are subject to other biological testing such as sperm survival test or cumulus cell removal assay instead of the mouse embryo assay.
Controlled manufacturing secures quality
We manufacture our products in clean rooms and our facilities are continuously monitored for particles, micro-organisms and air flow to secure a clean environment.
Many of our products are handmade by skilled operators with many years of experience. More than 20 years ago, Vitrolife played a big role in the development of the technique allowing gynaecologists to perform ultrasound-guided egg collection. We have since then continued to fine-tune our manufacturing process for needles and would like to welcome you to see for yourself.
Topics: IVF community insights, IVF laboratory control, Embryo culture & transfer
As responsible manager for media development, regulatory affairs and post market, Hans has experience of the products and product labelling from the very initial development phase to the end of the product life cycle. Hans has been with Vitrolife for 20 years and has been involved numerous projects such as development of new products, global registrations, quality improvements and introduction of the environmental management system.