Professor David K. Gardner FAA needs no further introduction to anyone working in the field of IVF. We know him as a well-respected scientist who has transformed how human IVF is performed. During 2017 he has recieved two prestigious awards. In this blog post Vitrolife's CSO, Dr. Mark Larman, congratulates him and gives an overview of the extensive work achieved by his mentor and friend.
Two prestigious awards in one year
David has published over 250 papers and book chapters, which have received over 20,000 citations. His text book of Assisted Reproductive Technologies is now in its fifth edition and is widely recognised as a definitive text within the field. It is this body of work, scientific achievements and translation into the field of IVF that led to the great honor of being elected as a Fellow to the Australian Academy of Science in May 2017.
It seems like this year is going to be one that David remembers as he will also be recognized at ASRM this year receiving the Distinguished Scientific Award. His passion and enthusiasm for the field and the patients continues to grow, as any of you have met him or heard him speak will know.
My first meeting with David
It was 2004 and my post-doctoral research position investigating oocyte activation at UCL in London was coming to an end. I enjoyed the basic research, but wanted to find an opportunity where my work could be directly applied - something clinically related. By chance at the time there was a job posting on IVF.net for a position at the Colorado Center for Reproductive Medicine (CCRM) by a Dr. David Gardner. It didn't take me long to consider the opportunity and I had moved to Colorado within a few months to join David's research team.
First published paper in first edition of Human Reproduction
David, however, had a more indirect path to Denver. He started his PhD in York, UK with Prof. Henry Leese in 1984. It was here where his interest in embryo metabolism was ignited. The first paper he published in 1986 was entitled Non-invasive measurement of nutrient uptake by single cultured pre-implantation mouse embryos and was the first embryology article in the very first edition of Human Reproduction.
Not many people know, but after completing his PhD he moved to Harvard University to join the laboratory of Prof. John Biggers. When he wasn't working on amino acid utilisation by embryos he could frequently be found at Fenway Park attempting to understand American cricket.
Ground breaking work on analysing the female reproductive tract
The next move was to Monash University in Australia to work with Prof. Alan Trounson. He spent 10 years developing means to in vitro culture embryos from several animals (laboratory, domestic and endangered). A main driver, however, for David came after meeting many infertile couples, which led him to consider how to translate basic science into clinical treatments. In order to identify what IVF processes could be improved David first became a fully trained clinical embryologist.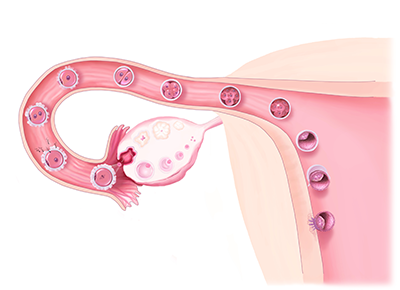 It was during this time that he was able to analyse the composition of the female oviduct and uterus, which serendipitously mirrored the changing nutrient requirement of the embryo as it developed. Thereby, laying the foundation of what became sequential media (G-1 and G-2).
On the move again and collaboration with Vitrolife started
It seemed that David (and his family) enjoyed moving as in 1997 he relocated to Denver to work with Dr. William Schoolcraft at CCRM. He spent 10 years in Denver pioneering blastocyst culture and advocating the importance of Quality Control and Assurance within the IVF lab, which included development of a blastocyst scoring method that is still the most commonly used scoring system to date.
During this time a close collaboration with Scandinavia IVF Science (renamed Vitrolife in 1998) started and subsequently flourished. Besides being a good North American distribution hub, the location of David and CCRM is the main reason for having a Vitrolife facility in Denver (I don't think the fact that there are more sunshine days in Denver than Miami hurt).
Back to down under
Although David was born in England he and his family fell in love with Australia during their time there, so in 2007 he could not resist the opportunity to return to Melbourne, becoming the Head of Zoology at the University of Melbourne. I also could not resist the invitation to join David on this adventure and moved to Melbourne and continued to work with David for 3 more years. David already had a prolific publication record and upon returning to academia he has continued to publish extensively and has taken on the training of many more graduate students.
Our warmest congratulations
Personally it was a fantastic experience working directly with David in Denver and Melbourne and I am very happy that this relationship has continued due to his scientific collaboration with Vitrolife. It is therefore an honor to congratulate David on both of these prestigious achievements on behalf of Vitrolife.
So congratulations from all of those at Vitrolife, especially myself. We look forward to witnessing your continued commitment to IVF, and especially the embryo, for whom you have been an advocate for over three decades.
Topics: IVF community insights
Mark´s research on cryopreservation and IVF has taken him around the globe. After he completed his Post-doctoral studies in the UK he worked with Prof David Gardner in the US and Australia. Mark then returned to the US and is now CSO at Vitrolife.