The 11th Alpha Biennial Congress took place in the beginning of May. Vitrolife was present, together with around 400 participants. If you were not there, this blog post will give you a short recap and the opportunity to watch our Scientific Symposium "Time-lapse for improved overall IVF".
Important meeting for sharing research
Vitrolife was proud to be a Diamond sponsor at this year's Alpha meeting in Copenhagen, Denmark. By supporting organisations such as Alpha we are helping our fellow scientists to advance scientific knowledge in the field of IVF. The bi-annual Alpha conference is a specialised meeting which focuses on basic research as well as current practice in the field of embryology.
It is also an opportunity for embryologists to be updated on the latest developments in the field, to present their own research or clinical data and meet with colleagues to discuss different aspects of daily work.
Among others, topics of this year´s meeting covered aspects related to functionality of gametes, impact of embryo and endometrium on implantation, culture medium and embryo metabolism, different methodologies for embryo selection, epigenetics and outcome after ART.
It is not easy to identify a single highlight of the meeting but the possible use or impact of new technologies as well as the increasing information on effects of the environment were very interesting.
Scientific symposium
"Time-lapse for improved overall IVF"

well attended - watch it here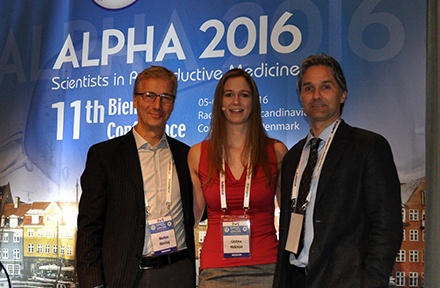 We had full-house at our company symposium "Time-lapse for improved overall IVF" where our upcoming KIDSCore D5 decision support tool (available in the fall), the very first morphokinetic algorithm for evaluating the implantation potential of blastocyst, was presented by Prof. Markus Montag. Dr. Cristina Hickman from Boston Place IVF gave an excellent overview of how the many aspects of using time-lapse technology has benefited their clinical practice. Finally Dr. Kovacs presented the results of his very well designed randomised controlled trial which showed that using selection models in a time-lapse system improves clinical outcomes.



Thanks for visiting!
We had many visitors to our exhibit stands and had the opportunity to meet with old and new friends. Thanks for visiting and we look forward to seeing you at another of the many conferences we are present at every year.
Topics: IVF community insights